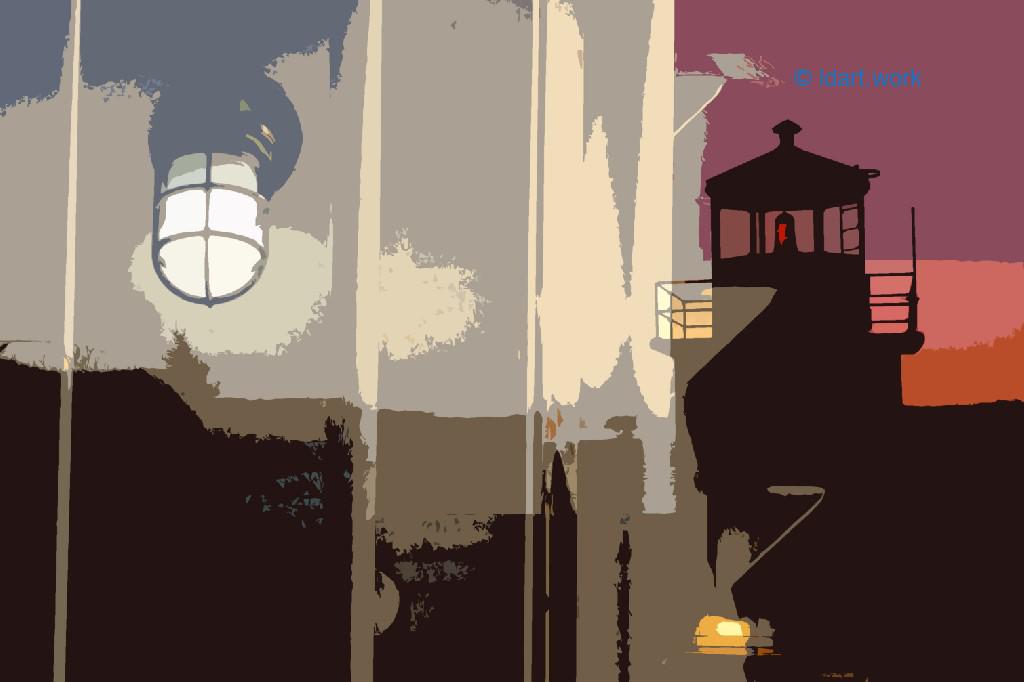 (texte en français ci-dessous)
Lights is a fotoprint from Grand Manan Island in New Brunswick, Canada.
A fotoprint is made with two photos of the same place superimposed and worked with filters to give a silk screen effect. It's also a technique I invented.
In the case of this image, there's a photo of the Long Eddy lighthouse and that of a lamp located on the ferry that connects the island to the mainland.
To see more fotoprints of this island, go to GMfotoprints.
---
Lights (Lumières) est un fotoprint de l'île de Grand Manan au New Brunswick, dans le Canada.
Un fotoprint est fait avec deux photos du même endroit superposées et travaillées avec des filtres pour donner un effet de sérigraphie. C'est aussi une technique que j'ai inventée.
Dans le cas de cette image, il s'agit d'une photo du phare de Long Eddy et de celle d'une lampe située sur le pont du ferry qui relie l'île au continent.
Pour voir d'autres fotoprints de cette île, allez à GMfotoprints. 
News – Nouvelles
No creation of new images right now as I redo allmy sites with new names and a new host. It will take me a while.
Pas de créations de nouvelles images en ce moment car je refais tous mes sites avec de nouveaux noms et sur un nouvel hôte. Cela va prendre du temps.