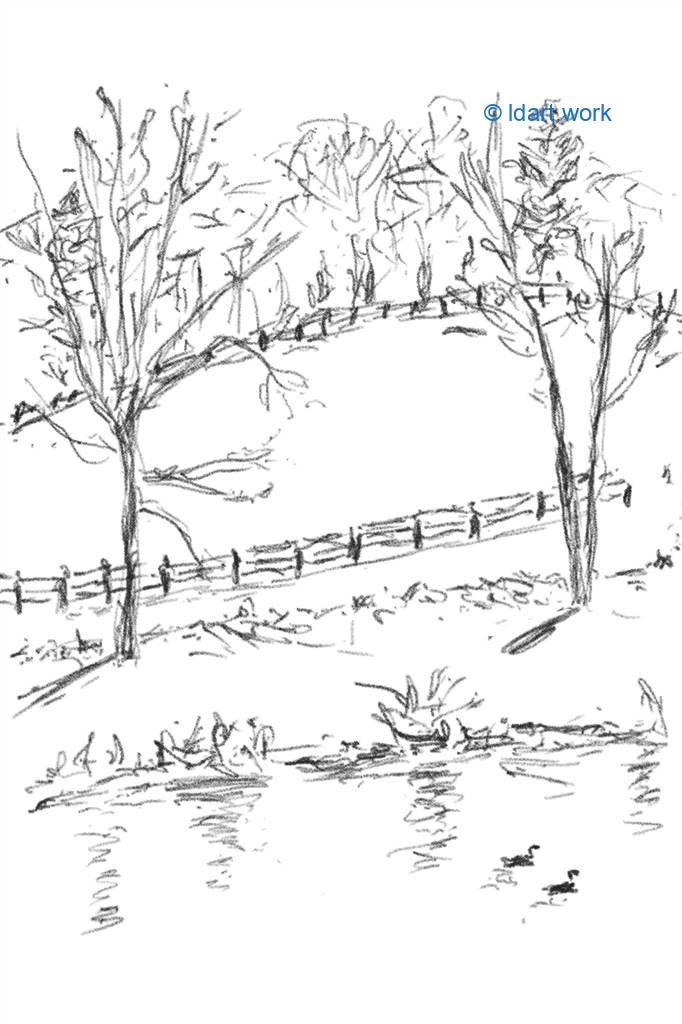 (texte en français ci-dessous)
When it comes to drawing a small pond, it is less the pond itself that counts than the place where it is located because what would a pond be without its setting? Just a body of water.
What makes the charm of this one are the reeds that border it, the ducks that frequent it, the meadow that rises behind and closes the perspective when it meets a border of tall trees. The wooden fences surrounding it only add to the overall appeal.
Do the drawings do justice to all this, it's never sure and that's why you always have to come back to them. It could even be that they are only the pretext to stop at this place to contemplate it for a long time without arousing concern among passers-by. He's not a thief planning his mischief they'll think, he seems to have all his wits about him and isn't lost. Ha, he's an artist, I get it. We don't know if what he is doing is good or even if he really draws, but that he gives the appearance of having stopped there for an identifiable mission is enough not to ask more questions.
But what is drawing, ultimately, if not the art of illusion? That you also use this art to satisfy your desires for contemplation does not change much in the matter because do you think that just a few lines and a little color are enough to recreate a landscape? No, you give an idea of ​​it, you encourage the spectator to recompose it with the help of what you have done and for that, you have to contemplate your subject for a long time and often in order to capture its spirit.
If you are skilled, you will succeed otherwise people will wonder what you do or did. Which, in either case, is what you want to avoid.
To find other sketches and stories:
---
Quand il s'agit de dessiner un étang, c'est moins l'étang en lui même qui compte que l'endroit où il se situe car que serait un étang sans son écrin? Juste une étendue d'eau.
Ce qui fait le charme de celui-ci, ce sont les roseaux qui le bordent, les canards qui le fréquentent, le pré qui monte derrière et ferme la perspective quand il rencontre une bordure de grands arbres. Les barrières en bois qui l'entourent ne font qu'ajouter à l'attrait de l'ensemble.
Les dessins rendent-ils justice à tout cela, ce n'est jamais sûr et c'est pour cela qu'il faut toujours y revenir. Il se pourraient même qu'ils ne soient finalement que le prétexte à s'arrêter à cet endroit pour le contempler longuement sans éveiller d'inquiétudes chez les passants. Il ne s'agit pas d'un voleur planifiant son coup penseront-ils, l'individu semble avoir tous ses esprits et n'est pas égaré. Ah, c'est un artiste, je comprends. On ne sait pas si ce qu'il fait est bien ni même s'il dessine vraiment mais qu'il donne l'apparence de s'être arrêté là pour une mission identifiable suffit à ne pas se poser plus de questions.
Or qu'est-ce que le dessin, finalement, sinon l'art de l'illusion? Que vous usiez aussi cet art pour satisfaire vos envies de contemplation ne change pas grand chose à l'affaire car pensez-vous qu'il suffit juste de quelques lignes et d'un peu de couleur pour recréer un paysage? Non, vous en donnez une idée, vous incitez le spectateur à le recomposer en s'aidant de ce que vous avez fait et pour cela, il vous faut contempler longtemps et souvent votre sujet afin d'en rendre l'esprit.
Si vous êtes habiles, vous y arriverez sinon on se demandera ce que vous faites ou avez fait.
Ce que, dans un cas comme dans l'autre, vous voulez éviter!
Pour trouver d'autres croquis et d'autres histoires: