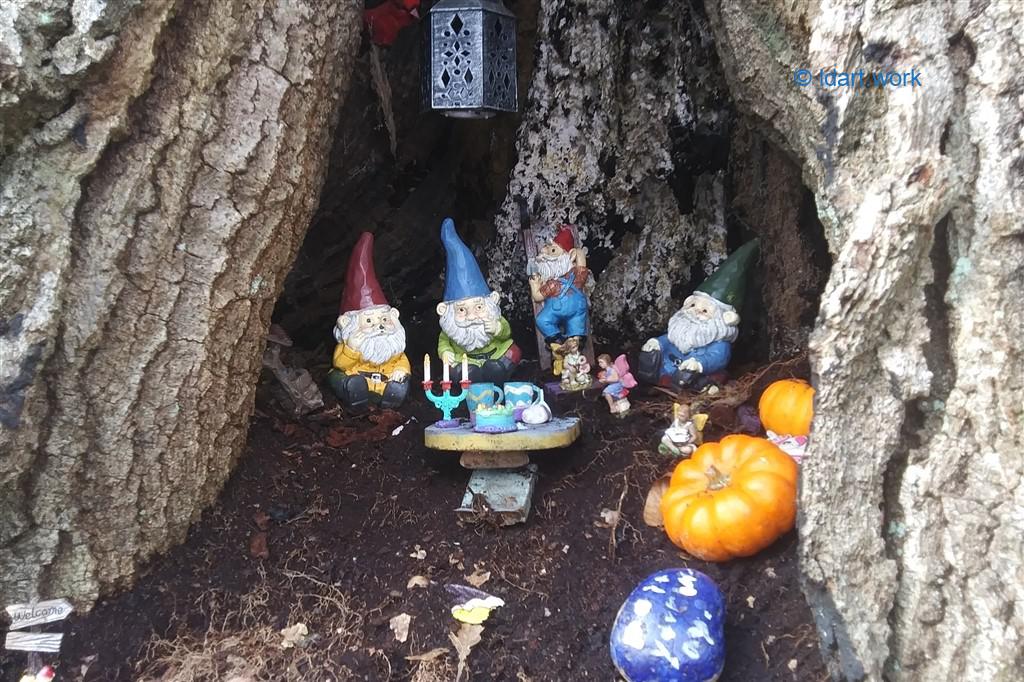 (texte en français ci-dessous)
We already knew that wild animals and plants spoke but that dwarves meet behind closed doors, we had never seen it before.
It should have been suspected, but it was only through the intervention of a playful soul that it was finally revealed to us.
What they say, however, is not yet understandable.
As they generally deal with local affairs, one might think that this must have something to do with the maintenance of the forest, but one would have to be there at very specific moments to be sure.
Moments that, except for a great upheaval in the frame of time as was the case with the creation of the Existential Dialogues with wild animals and plants, are always very stealthy.
But who knows?
In the meantime, if you look closely around you during your walks, you will at least end up seeing them, these 4 dwarves and their friends.
Don't count on me to tell you where their refuge is, though, that is part of the quest.
As well as silently complimenting their unknown architect for his/her imagination, and hoping that one day you will hear them and understand what they say.
---
On savait déjà que les animaux et les plantes sauvages parlaient mais que les nains se réunissent derrière des portes closes, on ne l'avait jamais encore vu.
Il aurait cependant fallu s'en douter mais ce n'est que par l'intervention d'une âme joueuse que cela nous a été enfin révélé.
Que disent-ils, ce n'est par contre pas encore compréhensible.
Comme ils s'occupent en général des affaires locales, on peut penser que cela doit avoir un rapport avec l'entretien de la forêt mais il faudrait être là à des moments bien particuliers pour en être sûr.
Des moments qui, à moins d'un grand bouleversement dans la trame du temps comme ça a été le cas pour la création des Dialogues Existentiels avec animaux et plantes sauvages, sont toujours très furtifs.
Mais qui sait?
En attendant, si vous regardez attentivement autour de vous lors de vos promenades, vous finirez au moins par les apercevoir, ces 4 nains et leurs amis.
Ne comptez pas sur moi pour vous dire où se trouve leur refuge, ceci dit, cela fait partie de la quête.
De même que complimenter silencieusement leur architecte inconnu pour son imagination et espèrer qu'un jour vous les entendrez et comprendrez ce qu'ils disent.