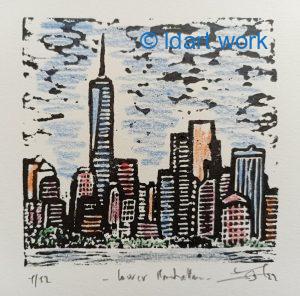 About these 4 linocuts – A propos de ces 4 gravures sur lino
(texte en français ci-dessous)
Three of them represent New York City and are the counterpart to some Boston prints. They are intended for la Boutique, an online store where users of my City Walks can go and buy me a souvenir if they prefer that to tip me.
First, there is the iconic Lower Manhattan with the One World Tower now rising in place of the two towers destroyed on 9/11 and, of course, a view of the Statue of Liberty because what is there more representative of the city?
Coney Island, the 3rd print of the series, I made it because I like amusement parks not for their rides where I hardly ever go but for their colors and the idea of ​​childhood that is attached to them. It's NYC because of the title but it could be somewhere else.
The 4th one is Main Street USA, my representation of a typical street of American cities with the traffic lights so particular to the country. I took the inspiration from a specific street in Arlington, a town in Massachusetts where I lived for a while, but I removed the trees that border it and simplified the buildings to make it something more general.
The 4 are available during my exhibitions.
They all fit a 8×8″ frame and their image size is 4,5×4.5″.
Like the Boston ones, they are colored with pencils because I like the effect it gives compared to the watercolors I often use or the traditional technique that I have long since abandoned by lack of suitable press. I particularly like the idea of just giving an impression of color with a few spots because, oddly, it works, the eye and the brain recompose and/or imagine what is missing.
---
Trois représentent New York et font le pendant aux gravures de Boston. Elles sont destinées à la Boutique, un magasin en ligne où les utilisateurs de mes promenades en ville peuvent aller m'acheter un souvenir s'ils préfèrent cela à me donner un pourboire.
Il y a d'abord l'iconique Lower Manhattan avec la tour One World qui s'élève maintenant à la place des deux tours détruites le 9/11 et bien sûr une vue de statue de la liberté parce que qu'y a-t-il de plus représentatif de la ville?
Coney Island, la 3ième gravure de la série, je l'ai faite parce que j'aime les parcs d'attractions non pas pour leurs manèges où je ne vais pratiquement jamais mais pour leurs couleurs et l'idée d'enfance qui y est attaché. C'est NYC à cause du titre mais ça pourrait être ailleurs.
La 4ème, Main Street USA, est ma représentation d'une rue typique des villes américaines avec en particulier les feux tricolores si particuliers au pays. J'ai pris modèle sur une rue précise d'Arlington, une ville du Massachusetts ou j'ai habité un moment, mais j'ai supprimé les arbres qui la bordent et simplifié les bâtiments pour en faire quelque chose de plus général.
Les 4 sont disponibles lors de mes expos.
Elles vont toutes dans un cadre de 20×20 cm et l'image elle-même mesure 12,5 x 12,5 cm.
Comme celles de Boston, elles sont coloriées avec des crayons parce que j'aime l'effet que cela donne par rapport à l'aquarelle que j'utilise souvent ou la technique traditionnelle que j'ai abandonnée depuis longtemps faute de presse adaptée. J'aime en particulier l'idée de juste donner une impression de couleur avec quelques taches parce que bizarrement, ça fonctionne, l'œil et le cerveau recomposent et/ ou imaginent ce qui manque.