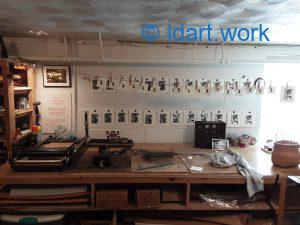 (texte en français ci-dessous)
This morning, I was working in my workshop to print some images that had been done a while ago but all sold out and I took a break; I liked the sight of the work in progress so I thought I was going to share it with you.
Cutting blocks of wood or linoleum, making the prints, letting the images dry without looking too much at the first result because it is never the right one, washing the blocks and tools, finally deciding to re-engrave more, printing again hoping that this time it will be good – which is rarely the case because it often takes 3 to 4 steps to get to the end result, letting the images dry again, cleaning the blocks and tools, finishing color tests as needed, at each stage letting time pass to have a more objective look at the result, that's the job of a printmaker.
Not to mention the preparation of the blocks, cutting them to the size of the planned image, sanding them, gluing them on a support and even before, choosing the themes and composition of the images that will be engraved.
This time, I'll have to wait a fortnight for the prints to dry and I will then add watercolor on one of them, then I will put the title and number on all of them. In this case, it will be OE because they will be Open Editions (unnumbered); then I will sign them.
Later, I'll bring them to the different places where I exhibit in order to sell them. It may take years before the print runs out because I have dozens more to choose from – and I create new ones regularly, but little by little someone will like one of these images and will want it to offer as a gift or to decorate his/her home. I still sell prints I did 35 years ago!
This workshop is in my basement and you only see a part of it here because more space is needed to store the prints already done, the boxes used for transport during the exhibitions, the tables, the tent and all the material I need (frames, paper, tools, inks, etc.).
Some engravers prefer to have a studio away from home so that they can better concentrate and / or work with others, but the home workshop solution has always been my favorite, much more practical for my taste.
I wrote some pages about the techniques of relief printing if you want to know more about this type of work and/or practice it yourself.
---
Ce matin, je travaillais dans mon atelier pour retirer des gravures éditées il y a un moment mais toutes vendues et j'ai fait une pause; la vue du travail en cours m'a plu alors je me suis dit que j'allais la partager avec vous.
Graver des blocs de bois ou de lino, faire les tirages, laisser sécher les images en évitant de trop regarder le premier résultat parce qu'il n'est jamais le bon, laver les blocs et les outils, finalement décider de regraver plus, tirer à nouveau en espèrant que cette fois-ci, ce sera bon – ce qui est rarement le cas car il faut souvent 3 à 4 étapes pour arriver au résultat final, laisser à nouveau sécher les images, nettoyer les blocs et les outils, faire enfin des essais de couleur au besoin, à chaque étape laisser passer du temps pour avoir un regard plus objectif sur le résultat, c'est cela le travail d'un graveur.
Sans compter la préparation des blocs, les couper à la taille de l'image prévue, les poncer, les coller sur un support et bien avant encore, le choix des thèmes et des images qui seront gravées, le choix aussi de leur composition.
Pour cette fois-ci, il me reste à attendre quinze jours que ce soit sec et j'ajouterai alors de l'aquarelle sur une des images, ensuite je mettrai titre et numéro sur toutes, dans ce cas précis, OE car ce seront des éditions ouvertes (non numérotées) puis je les signerai.
Il restera alors à les apporter aux différents endroits où j'expose pour les vendre. Ca pourra prendre des années avant que le tirage soit épuisé parce que j'en ai des dizaines d'autres entre lesquelles choisir -et j'en crée des nouvelles régulièrement, mais petit à petit, il se trouvera quelqu'un qui aimera une de ces images faites aujourd'hui et la voudra pour offrir ou pour décorer sa maison. J'en vends encore que j'ai faites il y a 35 ans!
Cet atelier est dans mon sous-sol, vous n'en voyez qu'une partie car il faut aussi de la place pour ranger les gravures faites, les boites utilisées pour le transport lors des expos, les tables, la tente et tout le matériel de réserve (cadres, papier, outils, encres…).
Certains graveurs préférent avoir un studio loin de chez eux pour pouvoir mieux se concentrer et/ou travailler avec d'autres mais la solution de l'atelier à la maison est toujours celle que j'ai préférée, beaucoup plus pratique à mon goût.
J'ai écrit des pages sur les techniques de la gravure en relief si vous voulez en savoir plus sur ce travail ou le pratiquer vous-mêmes.