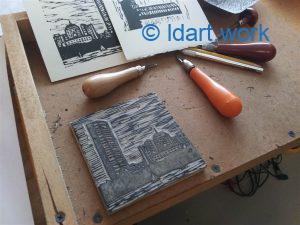 (texte en français ci-dessous)
Hello all,
This spring-summer 2020 newsletter, I wondered whether it was useful to write it as all my shows have been cancelled at least until June, yet I finally thought it would be an opportunity to tell you what I'm doing so here it is:
– On ldart.work, you'll find a video made for Somervile Open Studios and showing my work in progress. It's after the list of cancelled shows. Then, two new pages, one with my new photos, fotoprints and cards, the other with digital sketches and prints I had started to do until my tablet broke! Later, I'll add a page with my new linocuts, still a work in progress.
– On dialogues.ldart.work, you'll find the new versions of dialogues written before: this time, each animal represents a philosopher and the content is more developed. There are also references to useful books and a whole staging of these dialogues. To that, I added two pages, one with aphorisms, and one where a child asks questions to two eagles. It's a work in progress that can be useful for people teaching philosophy to kids, or for everyone looking for a few minutes of reflection!
– On the citywalks.space blog, I keep describing places to visit around Boston. On boston.citywalks.space, I slowly reorganize the self-guided walks in Boston. On newyork.citywalks.space, the ones in New York. For now, there are not really useful for actual visits but if you want to dream, organize your future outings or just travel when reading and looking at photos, there are also intended for that.
In short, enough to keep you busy at home if you want to go and have a look at these different sites instead of coming and seeing me!
Otherwise, welcome to the 14 new subscribers of January-February and the about 50 from the last semester of 2019.
Take good care of yourself,
Dominique
---
Bonjour à vous,
Ce semestre, je me suis demandé si j'allais écrire une lettre d'infos car toutes mes expos au moins jusque juin ont été annulées mais je me suis dit que c'était tout de même l'occasion de vous parler de ce que je fais donc voila:
– Sur ldart.work, vous trouverez une vidéo de 3mn réalisée pour Somerville Open Studios et montrant mon travail en cours. Elle est après la liste des expos annulées. Puis deux nouvelles pages, une avec mes nouvelles photos, cartes et fotoprints, l'autre avec des dessins digitaux que j'avais commencé à faire jusqu'au moment où ma tablette est tombée en panne! Plus tard, j'ajouterai une page avec mes nouvelles linogravures sur lino mais pour l'instant, elles ne sont pas encore finies.
– Sur dialogues.ldart.work, vous trouverez la nouvelle version de dialogues écrits les années passées: cette fois-ci, chaque animal représente un philosophe et le contenu est plus développé. Il y a aussi des références de livres utiles et toute une mise en scène de ces dialogues. A cela, j'ai ajouté deux pages, une avec des aphorismes et une où un enfant pose des questions à deux aigles. C'est un travail en cours qui peut être utile comme point de départ à ceux qui font de la philosophie pour enfants et à tous les autres pour leur(s) minute(s) de réflexion!
– Sur le blog de citywalks.space, je continue à décrire des endroits à visiter autour de Boston. Sur boston.citywalks.space/fr/, je réorganise peu à peu les promenades auto-guidées de Boston. Sur newyork.citywalks.space/fr/, celles de New York. Pour l'instant, elles ne sont guère utiles pour des visites sur place mais si vous voulez rêver, organiser vos sorties futures ou juste voyager en lisant et regardant les photos, les articles sont aussi prévus pour cela.
En bref, de quoi vous occuper à la maison si vous voulez aller faire un tour sur ces sites à défaut de venir me voir!
Sinon, bienvenue au 14 nouveaux inscrits de janvier-février et à la cinquantaine du second semestre de 2019.
Prenez bien soin de vous,

Dominique