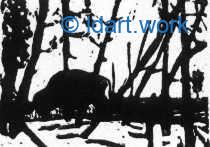 (texte en français ci-dessous)
Over the years and because I like it, I wrote intriguing stories of different kinds:
18 self-guided walks in Boston and 18 self-guided walks in New York, on and off the beaten path: to see them, follow the links, you'll get to two other sites. Once there, you'll be able to print these walks or use them directly on your phone to discover these two cities on foot and at your own pace, in reality or in imagination.
books with shorts texts and photos: the ones called Images, Voyages, Impressions are sold out but you can download and read a bilingual Web edition of some of these photos and stories so you'll have an idea of what they were (see below, IVI-Web). I made a Best of from them, and I have a second edition of a bilingual book with stories about Grand Manan Island. You can order them for $25/each + tax and shipping.
an article about Epinal, a town in France known for its images made with relief printing techniques. Follow the link to read what I say about it.
40 + existential dialogues with wild animals and plants. It's on another site that you can access if you click on the link. Each dialogue is followed by an analysis of its philosophical content, suggestions of further reading and of possible discussions. You'll also find there aphorisms and other dialogues answering a Why? question. It's an easy and fun introduction to philosophy for all ages.
many poems, short stories, and philosophical essays that are not published anymore.
---
Au cours des années et parce que j'aime ça, j'ai écrit des histoires intrigantes de plusieurs sortes:
18 promenades auto-guidées à Boston et 18 promenades auto-guidées à New York, le long et hors des sentiers battus: pour les voir, suivez les liens et vous accéderez à deux autres sites. Une fois sur place, vous pourrez imprimer ces promenades ou les utiliser directement sur votre téléphone pour découvrir Boston ou New York à pied et à votre rythme, en réalité ou en imagination.
des livres avec de courts textes et des photos : ceux qui s'appellent Images, Voyages, Impressions sont épuisés mais vous pouvez télécharger et lire une édition Web bilingue de certaines de ces photos et histoires afin d'avoir une idée de ce qu'elles étaient (voir ci-dessous, IVI-Web) . J'ai une deuxième édition d'un livre bilingue avec des histoires sur l'île de Grand Manan et un livre en français avec 31 des histoires qui étaient dans mes livres en anglais. Vous pouvez les commander pour $25/chaque + taxes et frais d'expédition.
un article sur les images d'Epinal car cela a un rapport avec l'histoire des techniques de la gravure en relief. Suivez le lien pour lire ce que j'en dis.
des lettres sur mes premières années aux USA, éditées et mises en forme par ma soeur Claude et illustrées avec des gravures en noir et blanc. Pour télécharger ce recueil intitulé "Tatanka, lettres et gravures des USA", voyez le lien ci-dessous
40 + dialogues existentiels avec animaux et plantes sauvages: C'est sur un autre site auquel vous pouvez accéder si vous cliquez sur le lien. Chaque dialogue est suivi d'une analyse de son contenu philosophique, de suggestions de lectures complémentaires et de discussions possibles. Vous y trouverez également des aphorismes et d'autres dialogues répondant à la question Pourquoi ? C'est une introduction facile et amusante à la philosophie pour tous les âges.
des poèmes, nouvelles et essais philosophiques qui ne sont plus publiés.