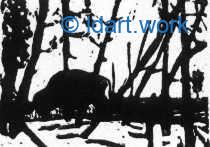 (texte en français ci-dessous)
Intriguing stories of different kinds:
books with shorts texts and photos; read one of the stories on the blog.
article about Epinal, a town in France known for its images made with relief printing techniques. It's also on the blog as it is related to the history of printing relief techniques.
56 existential dialogues with wild animals and plants.
many poems, short stories, and philosophical essays that are not published anymore.
---
---
Histoires intrigantes de plusieurs sortes:
textes courts et photos. Lisez-en une sur le blog.
article sur les images d'Epinal, également sur le blog car il a un rapport avec l'histoire des techniques de la gravure en relief.
lettres sur mes premières années aux USA, éditées et mises en forme par ma soeur Claude. Voyez le lien ci-dessous pour télécharger le recueil intitulé "Tatanka, lettres et gravures des USA".
56 dialogues existentiels avec animaux et plantes sauvages.
poèmes, nouvelles et essais philosophiques qui ne sont plus publiés.
---