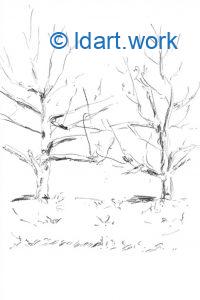 (Texte en français ci-dessous)
Drawing apple trees in a plantation is to choose them among dozens of others and remember which ones have been selected in order to be able to compare the successive drawings over time.
Unfortunately, it's only when you want to draw them a second time that the question of finding them again arises and it is tricky when no previous identification has been made of their exact locations.
It turns out that although they are all different, they all look alike and in this they are characteristic of life: the same mold is used multiple times with variations that only count for trained eyes.
More generally, it's already a lesson even though you haven't even started the second drawing yet: like apple trees, our differences are certainly only superficial. We think they are important because it is what makes us unique but it is perhaps a show of a lot of pretension because in a crowd, aren't we commutable?
In the case of these apple trees, it will therefore be necessary to admit that they are the same without being certain of it, and then a second observation appears which also concerns the living in general: things and perceptions vary over time so that we could agree with Heraclites that we never bathe twice in the same river. Seen from this angle, permanence is illusory and variations are undeniable.
The first time indeed, it was the end of winter and the apple trees were fighting by throwing their branches towards each other as if to decide which, once spring came, would take up the most space under the sun.
The second time was the end of spring, the apples were not there yet but the leaves were hiding the branches so it was a bushy mass that had to be represented rather than skinny arms.
Two situations that make the comparison difficult because are they really the same apple trees or just the appearance of identical apple trees?
In the same vein, are we really as we were yesterday, last week, last year? These questions remain open but what is certain is that, once again, apple trees turn out to be symbols of life and knowledge and that is already half the fun associated with drawing them!
You'll find other sketches and stories:
---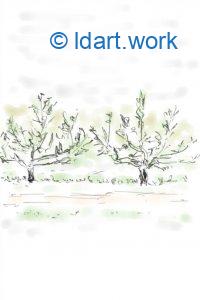 Dessiner 2 pommiers dans une plantation, c'est les choisir au milieu de dizaines d'autres et se souvenir de ceux qui ont été sélectionnés afin de pouvoir comparer les dessins successifs au cours du temps.
Ce n'est malheureusement que la deuxième fois que vous voulez les dessiner que la question se pose de les retrouver et c'est délicat quand aucun repérage préalable n'a été fait de leurs emplacements exacts.
Il s'avére alors que bien qu'ils soient tous différents, ils se ressemblent tous et en cela, ils sont caractéristiques du vivant: le même moule est utilisé de multipes fois avec des variations qui ne comptent que pour des yeux avertis.
De manière plus générale, c'est déjà une leçon pour nous alors que le deuxième dessin n'est même pas encore commencé: comme celles des pommiers, nos différences sont sans doute superficielles. Nous y accordons de l'importance parce que c'est à nos yeux ce qui nous rend unique mais c'est peut-être faire preuve de beaucoup de prétention car dans une foule, ne sommes-nous pas interchangeables ?
Dans le cas de ces deux pommiers, il faudra donc admettre que ce sont les mêmes sans en avoir la certitude et alors apparait une deuxième constatation qui concerne elle aussi le vivant en général: les choses et les perceptions varient avec le temps si bien que comme avec Héraclite, nous pourrions dire que nous ne nous baignons jamais deux fois dans le même fleuve. Vu sous cette angle, la permanence est illusoire et cette fois-ci, les variations sont indéniables.
La première fois en effet, c'était la fin de l'hiver et les pommiers se battaient en lançant leurs branches l'un vers l'autre comme pour décider qui, une fois le printemps venu, tiendrait le plus de place sous le soleil.
La deuxième fois, c'était la fin du printemps, les pommes n'étaient pas encore là mais les feuilles cachaient les branches si bien que c'était une masse touffue qu'il fallait représenter plutôt que des bras maigrichons.
Deux situations qui rendent donc la comparaison difficile car est-ce que ce sont vraiment les mêmes pommiers ou juste l'apparence de pommiers identiques?
Dans un ordre d'idée semblable, sommes-nous vraiment le ou la même qu'hier, que la semaine dernière, que l'an passé? Ces questions restent sans doute ouvertes mais ce qui est sûr, c'est qu'encore une fois, les pommiers se révèlent être des symboles de vie et de connaissance et c'est déjà la moitié du plaisir associé au fait de les dessiner!
Vous trouverez d'autres croquis et d'autres histoires: