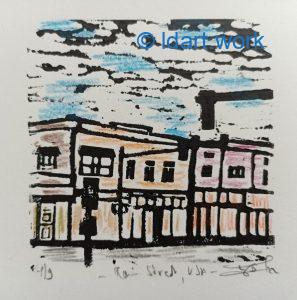 (texte en français ci-dessous)
Hello,
I had planned to be at West Medford Open Studio this year in June but I had to cancel at the last minute as I tested positive for Covid. I'm sorry if I missed you and I'm sorry I had to cancel but after two years of escaping it, Covid finally got me when I let my guard drop!
Fortunately, I have other shows planned until December and I will add a few more when I have the dates. For now, I'll do markets in Acton, Lexington, Marshfield, Natick, Salem NH and Winchester and Open Studios in Arlington on Nov 12 and at Somerville on Nov 19 and 20. Everything is and will be detailled on ldart.work.
The book about the Boston and NYC walks I had talked about last time is now finished and here is a link to it. Ditto for the new prints that were still drying at the time. All this and articles on certain destinations that I write regularly on the Citywalks.space blog complete the work that I wanted to do in relation to these sites of self-guided walks. Next city, Chicago if I have time!
This summer and after 3 previous unsuccessful attempts, I saw humpback whales breaching in the Bay of Fundy and I took some photos of them that will complete the prints I had already made about the Island of Grand Manan where I go regularly. I had sworn it was my last attempt but now, I'm ready for another trip if the show is of the same quality!
That's it for now. Welcome to the 38 new subscribers to this letter and see you all soon.
Dominique
---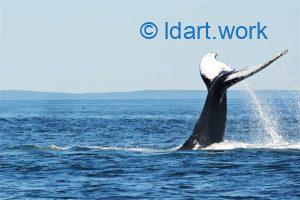 Bonjour,

J'avais prévu d'être au West Medford Open Studio cette année en juin mais j'ai dû annuler à la dernière minute car j'avais été testé positif au Covid. Je suis donc désolé si vous m'avez cherché et je suis aussi désolé d'avoir dû annuler. Après deux ans à y échapper, Covid m'a finalement rattrappé quand j'ai baissé ma garde!

J'ai heureusement d'autres expos prévues jusqu'en décembre et je prévois d'en ajouter quelques autres quand j'aurai les dates. Pour l'instant, il s'agit de marchés à Acton, Lexington, Marshfield, Natick, Salem NH et Winchester et d'Open Studios à Arlington le 12 novembre et à Somerville les 19 et 20 novembre. Tout est et sera précisé sur ldart.work.

Le livre sur les promenades à Boston et NYC dont j'avais parlé la dernière fois est maintenant terminé et voici un lien pour le trouver. Idem pour les nouvelles gravures qui séchaient encore à l'époque. Tout cela et des articles sur certaines destinations que j'écris régulièrement sur le blog de Citywalks.space complètent le travail que je voulais faire en relation avec mes sites de promenades. Prochaine ville: Chicago si j'ai le temps.

Cet été et après 3 précédentes tentatives infructueuses, j'ai vu des baleines à bosse faire irruption dans la baie de Fundy et j'en ai pris des photos qui viennent compléter les gravures que j'avais déjà réalisées à propos de l'île de Grand Manan où je vais régulièrement. J'avais juré que c'était ma dernière tentative mais maintenant, je suis prêt pour un autre voyage si le spectacle est de la même qualité !

Voila, c'est tout pour cette fois. Bienvenue aux 38 nouveaux abonnés à cette lettre et à bientôt.

Dominique