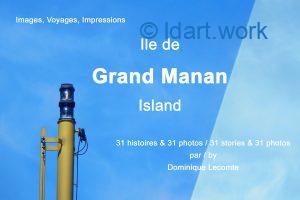 (texte en francais ci-dessous)
Since I realized that it was quite easy to turn the pdf files I had of my books into electronic Kindle formats to make ebooks, I started doing it for 4 of the most recent books I wrote.
They will eventually all be in this format as it had been a while since I thought to offer this option. My previous attempt with an online editor was not successful but now it's done!
To find them, just go to this address. You will see a description of the series and then each of the books offered either in French or in English, or both. To have the detail of each book, just click on it.
They are all created in the same landscape format with one of my photos on one page and a short accompanying text on the next page or, in the case of printed books, on the page opposite the image.
It is each time an impression or a reflection caused by the photo and the place where I took it. It evokes slices of daily life that will be familiar to you and that should make you smile, think, travel. They are not really intended to be read in one go but rather to be browsed at random and without overdoing it. You need to take the time to savor the image and text and possibly meditate on what is said since it should bring back your own memories.
Now, if an ebook doesn't suit you, some of these books are still available in paper version and I have them with me during my exhibitions. You can also order them directly from me by sending me a note.
Finally, to have an idea of their content, go to the tag Books-Livres and you'll have a least two different stories extracted from two of these books.
Happy reading!
---
Depuis que je me suis aperçu qu'il était assez facile de transformer les dossiers pdf que j'avais de mes livres en formats électroniques Kindle, j'ai commencé à le faire pour 4 de mes plus récents livres et ils seront éventuellement tous dans ce format. Ça faisait un moment que je pensais proposer cette option après qu'une tentative précédente avec un éditeur en ligne n'ait pas été fructueuse et c'est donc maintenant fait.
Pour les trouver, il vous suffit d'aller à cette adresse. Vous y verrez une description de la série puis chacun des livres soit en français, soit en anglais, ou les deux car certains sont bilingues. Pour avoir le détail de chaque livre, il vous suffira de cliquer dessus.
Ils sont tous créés sur le même format paysage avec une de mes photos sur une page et un court texte l'accompagant sur la page suivante ou, dans le cas des livres imprimés, sur la page en face de l'image.
Il s'agit à chaque fois d'une impression ou d'une réflexion provoquée par la photo et l'endroit où je l'ai prise. Cela évoque des tranches de vie quotidienne qui vous seront familières et qui devraient vous faire sourire, réfléchir, voyager. Ils ne sont pas vraiment destinés à être lus d'une seule traite mais plutôt à parcourir un peu au hasard et sans trop abuser. Il vous faut prendre le temps de savourer image et texte et éventuellement de méditer sur ce qui est dit puisque cela devrait vous rappeler vos propres souvenirs.
Si le format électronique ne vous convient pas, certains de ces livres sont encore disponibles en version papier et je les ai toujours avec moi lors de mes expos. Vous pouvez aussi me les commander directement en m'envoyant un mot.
Enfin, pour avoir un aperçu du contenu, allez au tag Books-Livres et vous trouverez au moins deux histoires extraites de deux de ces livres.
Voila, bonnes lectures!