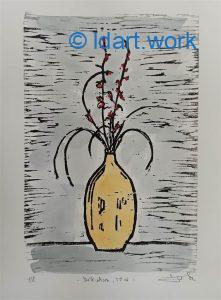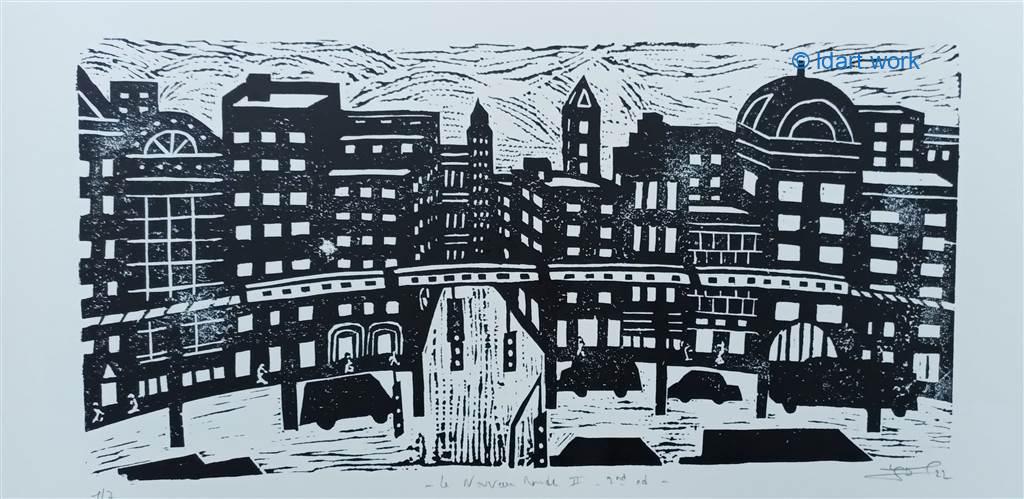 (texte en français ci-dessous)
Why make 2nd editions? Because my annual production never sells equally; out of 4 new engravings, one will sell well, one very little and the others will have mixed success. However, I spend as much care and time doing them all, but as in many things, there are days with and days without. As a result, my most popular prints are also the ones that sell out the fastest.
It still takes years and it is true that when it happens, the second in the list suddenly becomes the most popular; I could therefore be content to continue like this until the production of the year in question is exhausted, but as it is impossible to know if my sales would remain the same, I regularly redo second numbered editions in addition to my new annual productions. Disadvantage of the thing, instead of decreasing, my stock increases and complicates my travels and the presentation of my work! It's a minor annoyance, though.
Here is the story of these five 2nd editions printed at the end of 2021 and the beginning of 2022:
the 2 black and white prints entitled Le Nouveau Monde were made in France during the summer of 1996. They were a small edition of 7 copies. They represented my vision of the USA a year after having lived there and they mixed imagination and photographic memories. Their somewhat naive style dated from previous years and I gradually abandoned it. I made 9 prints in the same series over 2 summers and some are not sold out yet. Numbers 1, 2 and 3 and 5 were the most popular; I no longer have the exact dates but in 2013, all were sold.
the two other black and white prints entitled Wind, Water Spirit and Custer State Park were also made in France during the summer of 1999, this time inspired by photo montages made beforehand. Their edition was also 7 copies. For years, my large engravings of the USA were made in France in the summer because I had the time and the space. Custer was sold out in 2013 and Wind in 2019.
it is only now that I made a second edition of them because the wood or linoleum plates I used (linoleum for the New World, wood for the other 2) were still France and I only brought them back this summer after having cleared the garage where they were stored with many others plates that I destroyed (everything that had been done before 1994 because I no longer have the equipment or the space to make new prints of these old engravings).
finally, the color woodcut entitled Délicatesse was made in the USA in 2008 from a photo taken at home. It was sold out in 2019. Its edition was 14 copies.
Besides that, I sometimes make Open Editions unnumbered prints because they are generally small ones and I don't have room for a long title; or because the second edition has been exhausted.
I also sometimes rework the original plates so technically I should call these new prints 2nd states but I only learned about it after the fact so I still favor the term 2nd edition.
In any case, whether the differences are significant or not, there will always be some because each copy is unique as it has been hand pulled with different pressure from one draw to another. When I add color, either watercolor or colored pencil, these differences are further accentuated.
They are therefore always original and if you like them, that's the goal!
To learn more about relief printing techniques and numbering, see Printing Relief Techniques, a Complete Guide Parts 8 to15, on this site.
And have also a look at my two recent Open Editions prints below the French section of the post.
---
Pourquoi faire des 2ièmes éditions? Parce que ma production annuelle ne se vend jamais de façon égale ; sur 4 gravures nouvelles, une se vendra bien, une très peu et les autres auront un succès mitigé. Je passe pourtant autant de soin et de temps à les faire toutes mais comme dans beaucoup de choses sans doute, il y a des jours avec et des jours sans. Résultat, mes gravures les plus populaires sont aussi celles dont le tirage est épuisé le plus vite.
Cela prend tout de même des années et il est vrai que quand cela arrive, la deuxième de la liste devient soudain la plus prisée; je pourrais donc me contenter de continuer ainsi jusqu'à épuisement de la production de l'année en question mais comme c'est impossible de savoir si mes ventes resteraient identiques, je refais régulièrement des deuxièmes éditions numérotées en plus de mes nouvelles productions annuelles. Inconvénient de la chose, au lieu de diminuer, mon stock augmente donc et complique mes déplacements et la présentation de mon travail ! C'est un désagrément mineur, ceci dit.
Voilà donc l'histoire de ces cinq 2ièmes éditions tirées fin 2021 et début 2022:
les 2 gravures en noir et blanc intitulées Le Nouveau Monde ont été faites en France durant l'été 1996. C'étaiot une petite édition de 7 exemplaires. Elles représentaient ma vision des USA un an après y avoir habité et elles mélangeaient imagination et souvenirs photographiques. Leur style un peu naïf datait des années précédentes et je l'ai peu à peu abandonné. J'ai fait 9 gravures dans la même série sur deux étés et certaines ne sont pas encore épuisées. Les numéros 1, 2 et 3 et 5 ont été les plus populaires; je n'ai plus les dates exactes mais en 2013, toutes étaient vendues.
les deux autres gravures en noir et blanc intitulées Wind, Water Spirit et Custer State Park ont été faites elles aussi en France pendant l'été 1999 en m'inspirant cette fois-ci de photos montages faits au préalable. Leur édition était aussi de 7 exemplaires. Pendant des années d'ailleurs, mes grandes gravures des USA étaient faites en France l'été car j'avais le temps et la place. Custer a été épuisée en 2013 et Wind en 2019.
Ce n'est que maintenant que j'en ai fait une deuxième édition car les plaques de bois ou de lino (lino pour le Nouveau monde, bois pour les 2 autres) étaient encore France et je ne les ai rapportés que cet été après avoir débarassé le garage où elles étaiuent entreposées avec bien d'autres que j'ai détruites (tout ce qui avait été fait avant 1994 car je n'ai plus le matériel ou la place pour faire de nouveau tirages de ces gravures anciennes).
Enfin, la gravure sur bois en couleur intitulée Délicatesse a été faite aux USA en 2008 à partir d'une photo prise à la maison. Elle a été épuisée en 2019. Son tirage était de 14 exemplaires.
A côté de cela, je fais parfois des tirages en Editon Ouverte, c'est-à dire non numérotées, soit parce que ce sont en général des petites gravures et je n'ai pas la place pour un long titre, soit parce que la deuxième édition a été épuisée.
Parfois aussi, je retravaille les plaques d'origine donc techniquement, je devrais appeler ces tirages des 2ièmes états mais je ne l'ai appris que plus tard donc je continue à favoriser le terme 2ième édition.
Dans tous les cas, que les différences soient importantes ou non, il y en aura toujours car chaque exemplaire est unique de par son tirage à la main et les différences de pression d'un tirage à l'autre. Quand j'ajoute de la couleur, soit de l'aquarelle, soit du crayon de couleur, ces différences sont encore accentuées.
Il s'agit donc toujours de gravures originales et si elles vous plaisent, c'est le but!
Pour en apprendre plus sur les techniques de gravure et la numérotation, allez voir le Guide Complet des Techniques de la Gravure en relief, parties 8-15, sur ce site.