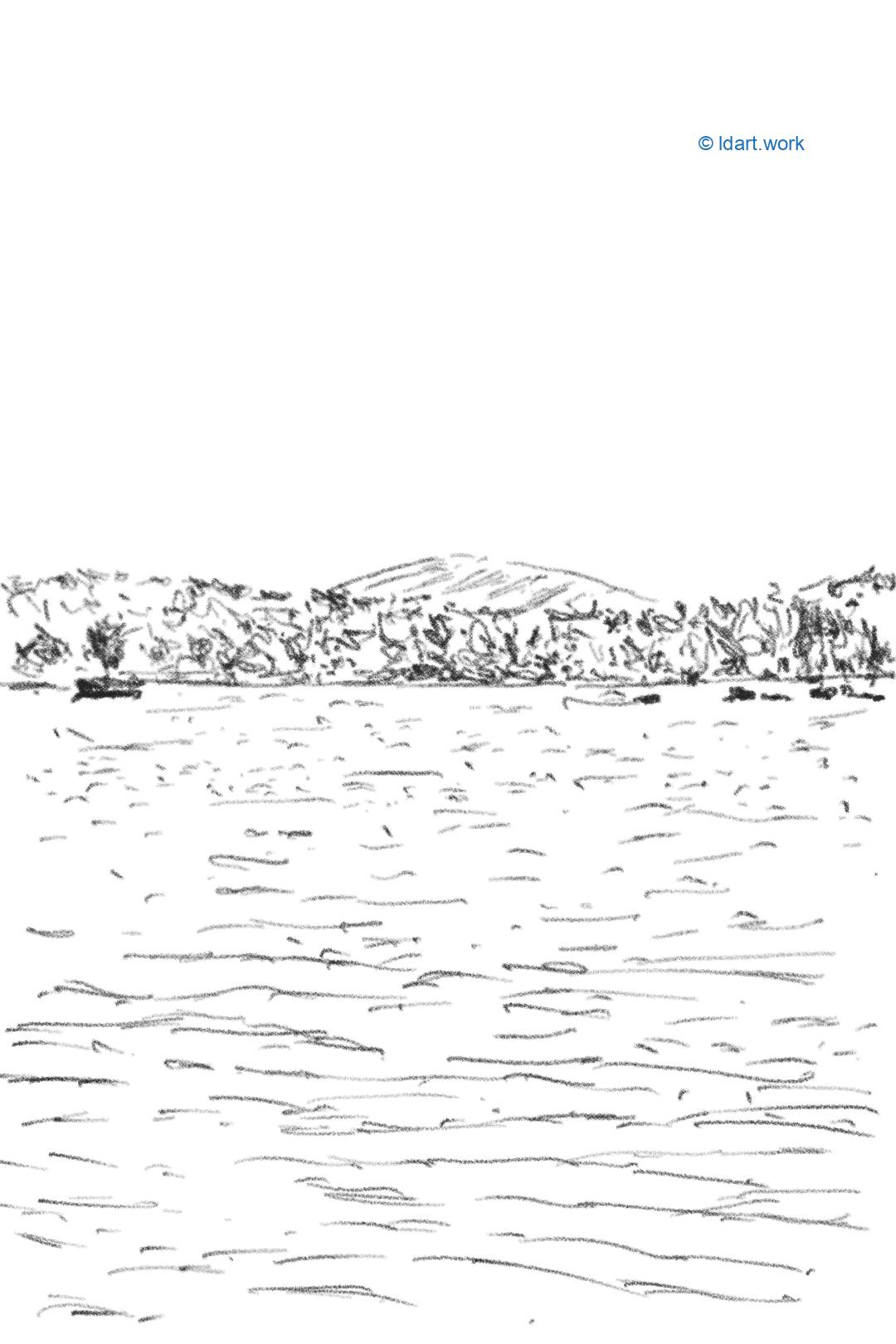 (texte en français ci-dessous)
Drawing during Fall, it's to force oneself to use color because, as is evident in the first sketch, black and white never gives any information on the season. It offers a generic representation of the landscape, here the essence of a mountain seen from the shores of a lake, but nothing more. It lacks the very particular smell of leaves decomposing on the ground, the more gripping one of certain marsh grasses which are beginning to dry, the palette of yellows, browns and reds which has been added to that of greens.
Will it be possible to show everything with color, no, of course, it's always better to be there to appreciate the moment and contemplating an image after the fact is only a last resort when there is no or no other solution. This is why the minimum when it comes to autumn is to indicate the colors to awaken the memories that will really give body to the image.
Obviously, someone who has never seen a mountain lake in autumn will have difficulty imagining what it really is and will see something else in the drawing. One will then be far from the intention of the author but as there is always a greater or lesser part of personal interpretation in the contemplation of a drawing, the signs that its creator puts in it can only guide the interpretation up to a point.
Drawing during Fall, therefore, it will be using a warm color palette and leaving the rest to interpretation. It's just a small addition to the usual work of creating an image but like the rest of the season, it makes it charming.
If you liked this article, you'll find other sketches and stories:
---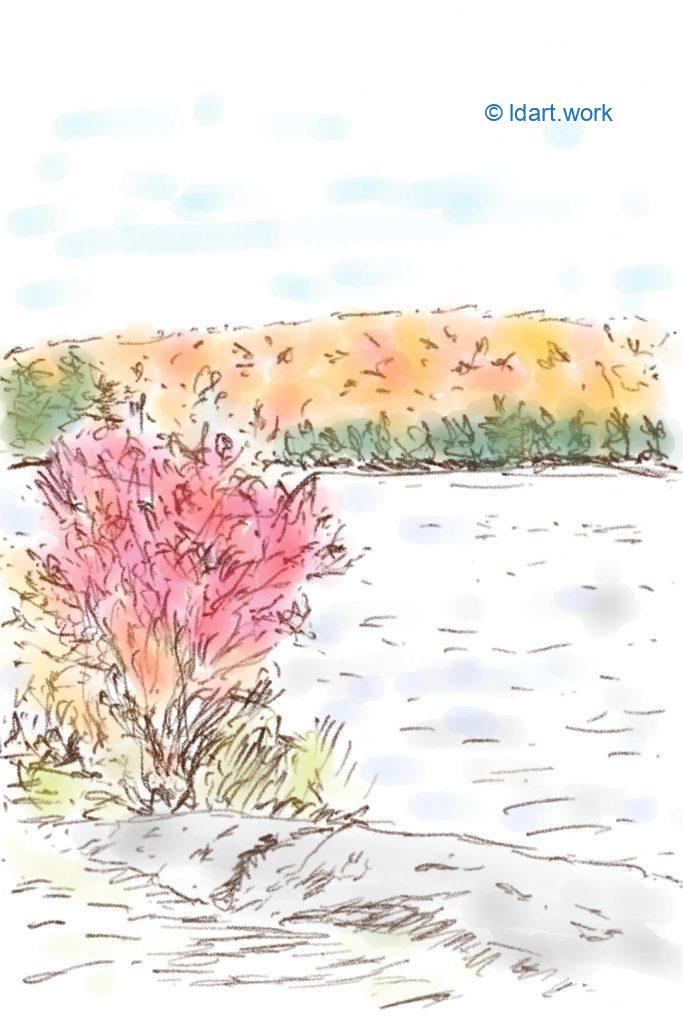 Dessiner en automne, c'est s'obliger à utiliser de la couleur car comme c'est évident dans le premier croquis, le noir et blanc ne renseigne jamais sur la saison, il propose une représentation générique d'un payasge. Ici c'est l'essence d'une montagne vue depuis les rives d'un lac, mais rien de plus. Il y manque l'odeur si particulière des feuilles qui se décomposent sur le sol, celle plus prenantes de certaines herbes des marais qui commencent à sécher, la palette des jaunes, des bruns et des rouges qui s'est ajoutée à celle des verts.
Sera-t-il pourtant possible de tout montrer avec de la couleur, non, bien sûr, il vaut toujours mieux être sur place pour apprécier le moment et la contemplation d'une image après coup n'est jamais qu'un pis aller quand il n'y a pas ou plus d'autre solution. C'est pour cela que le minimum quand il s'agit de l'automne, c'est d'en indiquer les teintes pour réveiller les souvenir qui donneront vraiment du corps à l'image.
Du coup, évidemment, quelqu'un qui n'aurait jamais vu un lac de montagne en automne aura des difficultés à imaginer ce qu'il en est en réalité et verra autre chose dans le dessin. On sera alors loin de l'intention de l'auteur mais comme il y a toujours une part d'interprétation personnelle plus ou moins grande dans la contemplation d'un dessin, les signes que son créateur y met ne pourront jamais orienter l'interprétation que jusqu'à un certain point.
Dessiner en automne, ce sera donc utiliser une palette de couleurs chaudes et laisser le reste à l'interprétation. C'est juste un petit ajout par rapport au travail habituel mais comme le reste de la saison, il fait tout le charme du moment.
Si vous avez aimé cet article, vous trouverez d'autres croquis et d'autres histoires: